Back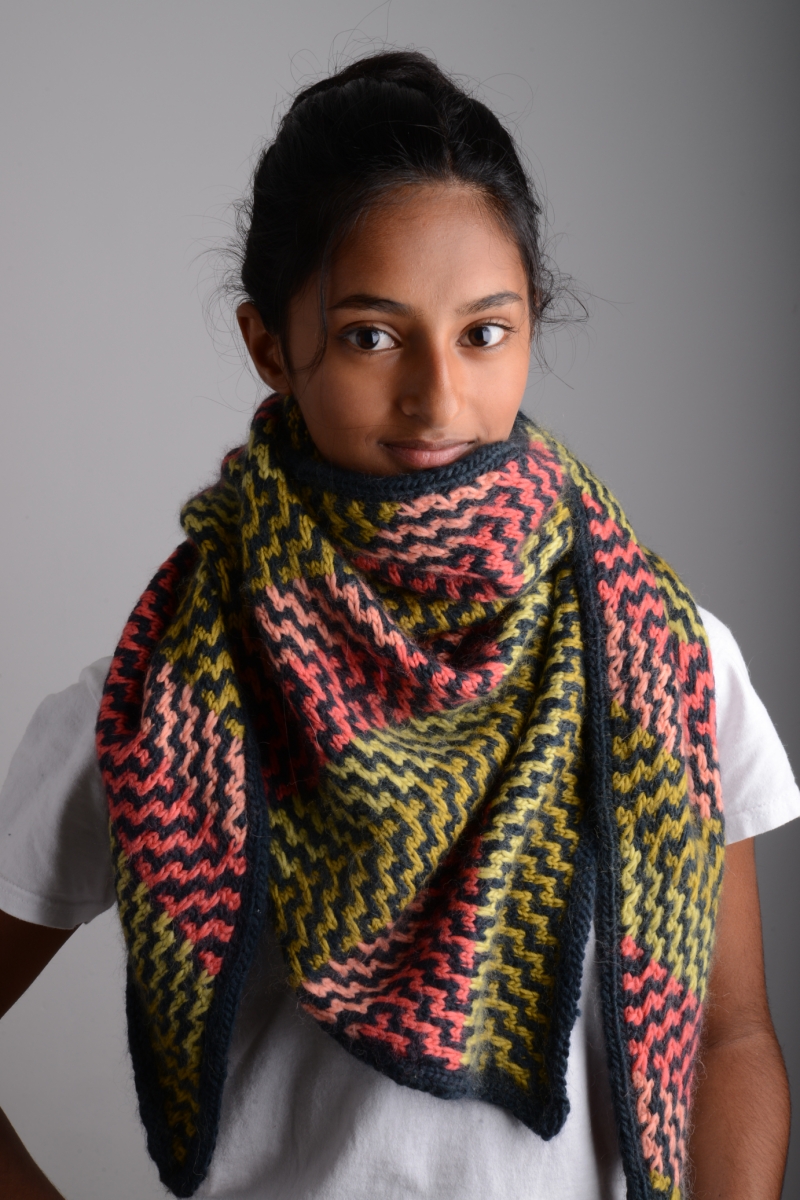 Incognito Shawl Yarn Kit
£65.00
Finished Measurements: 124cm x 88cm
Tension: 21 ½ stitches and 34 rows to 10cm (4") over slip stitch pattern
 So confession time; I'm not really a shawl person.  Nothing wrong with them (obviously), and I just love the shawls that other people design and knit.  They are works of art and also extremely practical items to wear.  The reason for my shawl-aversion?  Simply lack of stamina. There are just too many stitches to be knitted!  I'm just so incredibly easily distracted that I will never manage to finish a shawl that has a gazillion stitches in the final rows… just thinking about it makes me feel a bit queasy.
As you can see though, this does look a tiny bit like a shawl.   That is because, I thought, age 48, I really ought to pull myself together and give it a go… my children are starting to leave the nest and soon I'm going to have loads of time on my hands and will be begging for extremely complicated shawl patterns with ludicrous numbers of stitches to take my mind off their empty beds… 
So, I thought I'd start with a design that importantly starts at the longest point with the stitches decreasing so that I didn't lose hope.  Also, and probably more importantly, this shawl uses our lovely thick Plump DK yarn so there aren't a silly number of stitches at any point.  So, if you have a shawl phobia like me, then this could be your cure.  Hopefully it will go some way to helping. 
The Kit contains: A PDF copy of the pattern and Plump DK in the following quantities - 3 x Main Colour (shown in Blueberry Muffin), 1 x each of the four contrast colours: shown in Gooseberry Fool (A), Pistachio Ice Cream (B), Rhubarb Crumble (C), Marshmallow (D).  If you would like to do a different colourway then just make a note of it in order comments, listing which colours you want for MC/A/B/C and D. You can see all the colours of Plump DK here.
You will also need a 5mm circular needle at least 80cm long.
A little note about the construction:
To reduce the amount of finishing for the shawl, all the edgings are knitted with the main body of the garment so there is nothing to add once you've finished.  To enable this, you will need to have two balls of the main colour on the go at once.  One (MC2) will only be used for the four-stitch edging at the left hand side of the shawl.  If you don't do this you'll quickly discover that the MC is at the wrong end of your work half the time which is a little inconvenient!  It will be in use for the whole knit and handily, one ball is plenty for this edge.  It's slightly annoying having an extra ball on the go, but not as annoying as having to add an i-cord or some other edging at the end. 
The colourwork is all slip stitched so no stranding which, let's face it, is a relief!
Enough preamble; here goes.
Washing
Plump Superchunky and Plump DK are made from the highest quality superfine merino and baby alpaca.  These really are special and luxurious fibres and should be treated carefully!  Having said that both yarns are suitable for delicate hand washing.  Use a specialist detergent and do not agitate or twist the fibres to retain the gorgeous softness and shape of your garment.
Shedding
Because of the roving nature of our yarns (they are single ply, rather than tightly twisted), some shedding may occur.  The best way to deal with this is spray your finished garment with water and leave to dry flat, naturally before the first wearing.  This sets the fibres and should stop any problems.  If you want any further advice just drop us a line at [email protected]
Using your yarn
All our yarn comes in skeins.  Before using you need to wind the skein into a ball or you will get into an awful tangled mess!  If you are not sure how to do this you can watch our video here!
UK
Shipping is £3.95 to anywhere in the UK regardless of size.
All our orders are posted by UK first class mail.
EU & Europe
For all orders to the EU & Europe shipping is £9.50.  Local taxes may apply.
Orders are sent by UK first class mail
USA, Australia, NZ and rest of the world
For the rest of the world, shipping is £20. Local taxes may apply.
Orders are sent by UK tracked and signed first class mail.
Returns
We will happily accept returns or exchanges within 28 days.  Please drop us a line at [email protected] if you plan to send anything back so that we can deal with your request.  Please note that we can only accept unused yarn, still in the skein (ie not wound into a ball).  Further information is available at our terms and conditions.