Luxurious yarns, simple designs, gorgeous knitwear 
Mrs Moon Yarns

We believe that if you are spending your time knitting or crocheting then you should use the best possible fibres for your creations.  Our Plump and Plump dk yarns are made from the highest quality, ethically sourced, superfine merino and baby alpaca which makes them incredible soft for all the right reasons. 
When we started out as a yarn store in SW London, we quickly worked out what our customers and we wanted when it came to handknitting yarns. Simple luxury.  A yarn that is natural, soft, wears well, is responsibly sourced and comes in beautiful colours!
And so our first yarn Plump was born.  The fibres used in Plump and Plump dk tick all of the boxes above.  And we have very carefully chosen our colour palette so that you really can't go wrong when deciding which one to use.  The colours are all named after some of our favourite sweet things....  so you might like Fondant Fancy, Pistachio Ice Cream or Gooseberry Fool.  


Ethical Provenance of Mrs Moon Yarns
The tops are from non-mulesed Merino sheep from ethical farms, all the wool is shorn and not a bi-product of the animal skin industry as the sheep are kept for wool production alone.  The alpaca is also shorn, the animals being kept for fibre production only.
And Designs
We also specialise in simple, stunning knitting and crochet designs.  We love to mix colours and textures and put modern twists on old classics. 

All our designs tend to be reasonably easy.  We'll always give you an idea of the skill level, espcially if it's easy enough for a total beginner.  We try to video any trickier techniques and stitches - have a look at our How To section.  If you can't find what you're looking for, drop us a line and we'll see if we can get a video made.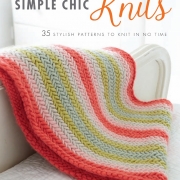 We have lots of designs for using yarns other than Mrs Moon too.  Our book - Simple Chic Knits - is full of projects using all sorts of yarns and you can also find lots of our designs on Ravelry too.